Skip to Main Content
It looks like you're using Internet Explorer 11 or older. This website works best with modern browsers such as the latest versions of Chrome, Firefox, Safari, and Edge. If you continue with this browser, you may see unexpected results.
Access to the Materials Room
The Materials Room is now usually open from 11am to 3pm Monday to Friday during term-time for University staff and students.
Please contact Marion (m.syratt-barnes@mdx.ac.uk) to make an appointment outside these hours, or for more information about the using the Special Collections.
Key image
Zines

Zine by Danie
We have an amazing collection of zines in the Materials Room. For more information about these, click here.
Illustrated Books
The Illustrated Book Collection
This has a wide range of historical and contemporary illustrated books, for children and adults. It is available in the Basement of the Sheppard Library and is arranged by illustrator. The books can be searched for on the library catalogue. Click here for more information.
Special Collections: in brief
This home page gives an overview of the special collections available in the Sheppard Library's Materials Room, and at MoDA (Museum of Domestic Design & Architecture). You can click on the tabs above or links below to get more information.
The collections included are:
Mini Photo Studio
We now have a small photographic box (60x60x60cm) so you can take high quality pictures of items in the Materials Room. Please ask about this when you visit the room, or email Marion (m.syratt-barnes@mdx.ac.uk) or Sherene (s.king@mdx.ac.uk) to book it in advance.
You can change the background colour, and dim or diffuse the lighting to achieve the effects you need.
Special Books Collection
The Special Books Collection is a small library of books which for reasons of age, rarity, fragility or special format are kept separately. The titles include many artists' books and the fashion publication Visionaire. Click here for more information about the Special Books Collection.
Comics Collection
The Sheppard Library holds an amazing collection of vintage and contemporary comics, showing a wide range of graphic styles. There are children's, underground publications sci-fi and manga, and many others. This collection is available in the Materials Room which is in the Basement of the Sheppard Library.
Click here for more information about the Comics Collection.
John Lansdown Archive
Professor John Lansdown (1929-1999) was a pioneer in the field of computer art and computer-aided design, particularly in the 1960s and 1970s. Middlesex University now holds Professor Lansdown's archive, click here for further information.

Image credit
Samples Collection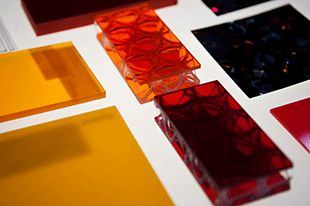 This is a broad ranging collection of manufacturers' product samples.
Items include fabrics, glass, plastics, wire mesh, marble, paper, paint and laminates. The information is arranged in categories and items may be borrowed from this collection for two weeks.
Click here for more information about the Samples Collection.
Fashion Collection
The Fashion Collection is a collection of clothes, accessories, fabrics and haberdashery items from Victorian times to the present day.
The Collection is kept in the Materials Room (Sheppard Library, Basement) and is usually open from 11am-3pm Monday to Friday during term-time. If you can't visit the room between these hours you may be able to book an appointment by contacting m.syratt-barnes@mdx.ac.uk. Click here for more information about the Fashion Collection.
Museum of Design & Domestic Architecture (MoDA)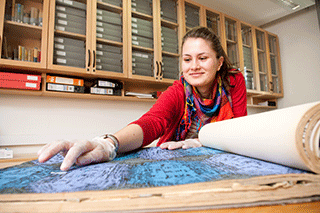 MoDA holds wallpaper and textile samples, designs, books, journals and ephemera. You can browse the collections from their website at www.moda.mdx.ac.uk or email moda@mdx.ac.uk to arrange a study room appointment.
MoDA is a 10 minute walk from Hendon campus at::
MoDA Collections Centre
Middlesex University
9 Boulevard Drive, Beaufort Park
Colindale, London
NW9 5HF
Tel: 020 8411 5244
More details of exactly how to find MoDA are available here